WHAT WE DO
Haycock Environmental Consultants Limited (HEC) is a specialist hydrology, hydro-ecology and hydro-chemistry team dedicated to the restoration and creation of waterscapes.
Namely, we work on lakes, rivers and wetland habitats. We cover issues from lake restoration to wetland protection and river management.
We can take your water based problem, review options, find the solution and managed the development of the project through to delivery.
WHY CHOOSE US
You will find us a friendly, professional company who are deeply committed to supporting our clients with the management of water in its many forms.
As hydrologists, we get involved in many technical aspects of water management, from flood management to drainage schemes. We get involved in understanding water related problems, working on solutions and seeing those solutions implemented. That often means managing a project from inception through to completion, especially where the careful management of water is central to the success of the project.
We work with landscape architects, architects, civil and structural engineers. We integrate our work with ecologists where our understanding of hydro-ecology and water chemistry often overlaps. We can act as the lead consultant, ensuring all the professional specialists work together for the success of the project.
HEC Limited continues to work in some of the most challenging locations, where flood damage has been extensive (Boscastle, 2004) or the protection of key species is paramount (RSPB Ouse Fen). We have been privileged to work on some of the most challenging water restoration projects, from the Serpentine (Hyde Park, London Olympic 2012) to the Venice Lagoon (1999 onwards). We continue to work with communities on local projects (e.g. Loweswater Restoration) and greatly enjoy supporting Private Estates on restoring parklands and their water features (e.g. Blenheim Palace, Croome Landscape Park, Bramham Park and the Royal Parks etc.).
HEC Limited supports clients through legal disputes where riparian rights have been infringed. HEC supports developers or those worried about development and acts as an independent assessor on the impact of a development on surface and groundwater environment.
Haycock Environmental Consultants Limited
Independent Hydrologist and Waterscape Consultants
Company directors Dr N E Haycock and Mrs J Walker-Haycock.
Haycock Environmental Consultants Limited. Registered in England No. 07464727. Registered office: The Old Barn, Avoncroft Farm, Offenham, Evesham WR11 8RR
Some of our long standing clients:
Castle Howard: Obelisk Ponds.
Restored 2016-2017.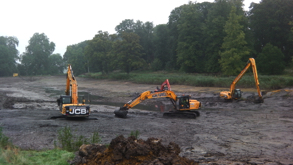 Longleat Estate
Lake refurbishment - July 2016-2018
Reservoir Safety - 2019-2021
Bramham Park - Phase 3 - Queens Pond and Cascade
2006-2008 Phase 1 - Scoping Phase
2011-2012: Phase 2 - T-Pond and Parterre
2020-2021: Phase 2 - Cascade and Queens Hollow Pond
Blenheim - Lake Dredge and Dewatering Plan (2016-2019)
Badminton - Restoring the Ice Pond
Congatulations to Clinton Devon for securing planning permision for the Restoration of the Lower Otter Valley. Well done to all involved and we look forward to see the evolution of this landscape over the coming decades.